Lubbock JBF Spring/Summer Sale:
​
March 7th - 10th 2023
​Lubbock Memorial Civic Center


At Lubbock JBF, you can find hundreds of families recycling their new & gently-used merchandise as consignors, & thousands of people shopping and providing for their families!
We want to help you clean out your closets & put CASH in your pockets!
We pledge to do our best to assist you in reaping the rewards and benefits as consignors and shoppers at Lubbock JBF!
​


​

TEAM MEMBER: WHAT DOES THAT MEAN?



Our Team Members are the HEART of our sales events. They do all kinds of wonderful tasks such as help with set up, sales floor organizing, check out and break down. And the more you help at the sale, the EARLIER YOU SHOP! SO, Check your day planners and get a sitter!
Lubbock JBF Team Members can look forward to the following benefits:
Team Members with items in the sale will earn an additional percentage on all sold items.




Team Members

shop the sale first at the Pre-Sale on Wednesday, March 6th!
Team Members get FREE ADMISSION all sale dates and times.
Team Members shop the 1/2 price sale BEFORE the public!
TEAM MEMBER REGISTRATION OPENS MONDAY, November 20th! We would love to have you join our team!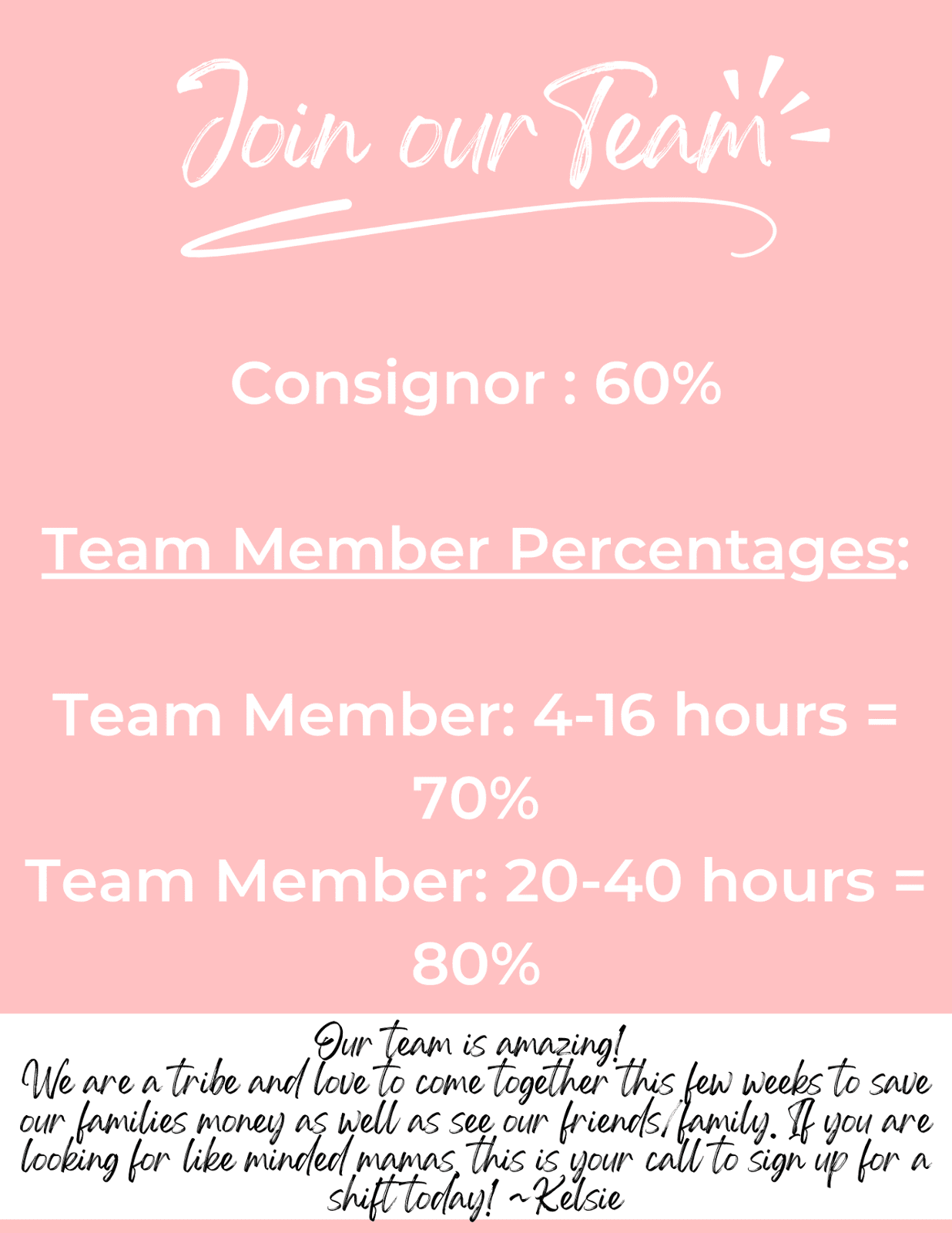 Savings & Selection
GET MORE FOR LESS!
At every sale you can find gently-loved and new clothes • ​toys • shoes • books • videos • baby gear and more!
When you shop at Just Between Friends you can expect
We get it—raising a family gets expensive!
Shopping retail means hours in a mall with bored, crying kids—spending way more than you planned. And garage sales or social media buying can be disappointing and frustrating when items or connections aren't what you hoped they'd be. Shop Just Between Friends pop-up sales to save hundreds of dollars on new and gently-used clothes, toys, shoes, books and gear for all sizes—infant to teen, plus maternity—all in one place. Items are inspected for quality and safety which means great items at huge savings. You get stylish, confident, good-looking kids while saving money and time. That's smart!

Wondering how shoppers feel about the bargains and selection at a JBF sale? Take a look!
They have everything kid related.

Having everything kid related in one location is awesome. I plan to shop/spend each sale so my kids are assured that Mom will say "yes!" to at least some of the "look Mom!" items they find.

• Becky V

Great way to buy a season's worth!

This is a great way to buy a season's worth of clothes for all your littles! Great variety!

• Barbara H
I love it every time. And I finally got my friend to come this past sale and she was in awe of the savings. She'll be coming back for sure!
• Victoria V
Are you a new parent or grandparent?
Learn the 5 Things to Never Buy New
Many parents and grandparents think they have to buy NEW to get the best for their kids. What if there's a way to get the best (and the safest) items you want at a fraction of the cost? Now that's smart! Read our "5 Things to Never Buy New" Guide. This Guide will save you over $387!
Do you have items you'd like to SELL at our next sale?